Welcome to Exterior Season ☼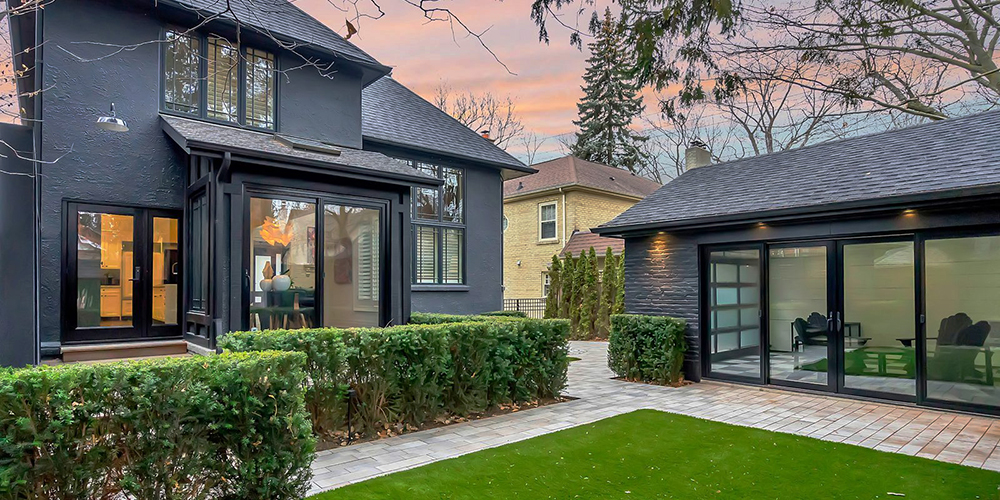 "The colour you paint your home's exterior can make or break people's perception of your house." – Erika Woelfel, director of colour marketing for Behr Paints
First impressions are everything and as the weather gets hotter, the requests for exterior painting start pouring in. Beat the rush and be one of the first projects of the season.
Feeling Colourful?
Pick a colour that works with, not against your surroundings. Think about your property as a whole rather than the house and yard being two different projects. This Sherwin Williams custom green match is complemented by the surrounding trees and fresh white trim. Don't have a yard full of bright greens? Try a blue-grey like this Sherwin Williams custom match that brings in tones of the sky and is perfectly accented with white trim and a grey roof. If you're having a hard time visualizing a colour for your home's exterior, try using the Colour Visualizer by HGTV Home by Sherwin Williams to try out some colours. https://www.hgtvhomebysherwinwilliams.com/color-visualizer
Moving to the Dark Side
When choosing a colour for the exterior of your home, don't be scared of moving to the dark side! A black exterior allows your home to stand out without making things too bright and busy. Shades of black can range from Farrow & Ball No. 31 Railings to Benjamin Moore Black Panther 2125-10 to Sherwin Williams Tricorn Black 6258 and many more. All shades of black pair well with both brick and wood, making the addition of black accents an easy task.
The decorative half-timbering on this Tudor-style home is accentuated by it's black shade which contrasts beautifully with the neutral hue of the stucco and stone. The dark tone makes the hard lines and angles even sharper.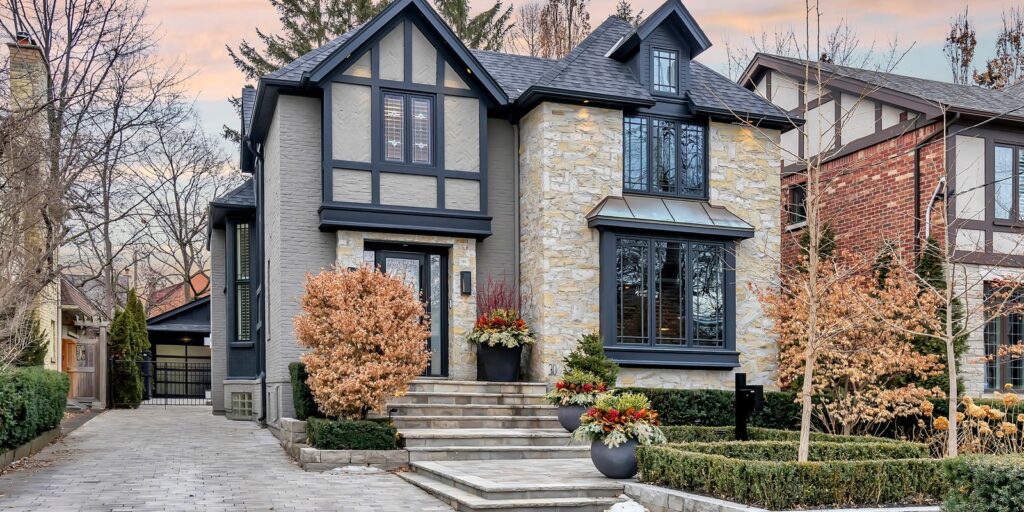 Business in the front; Party in the back
Adding an addition to your home? Want it to stand out? The black features on this Tudor-style home are a preview of what's to come in the backyard. While maintaining the historic style in the front of the house, the new addition built on to the back offers a modern, minimalist vibe.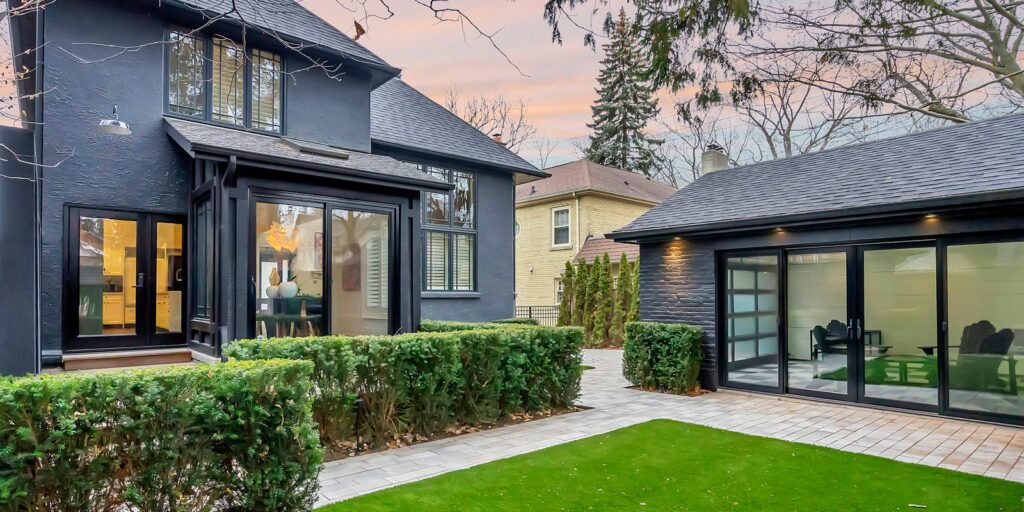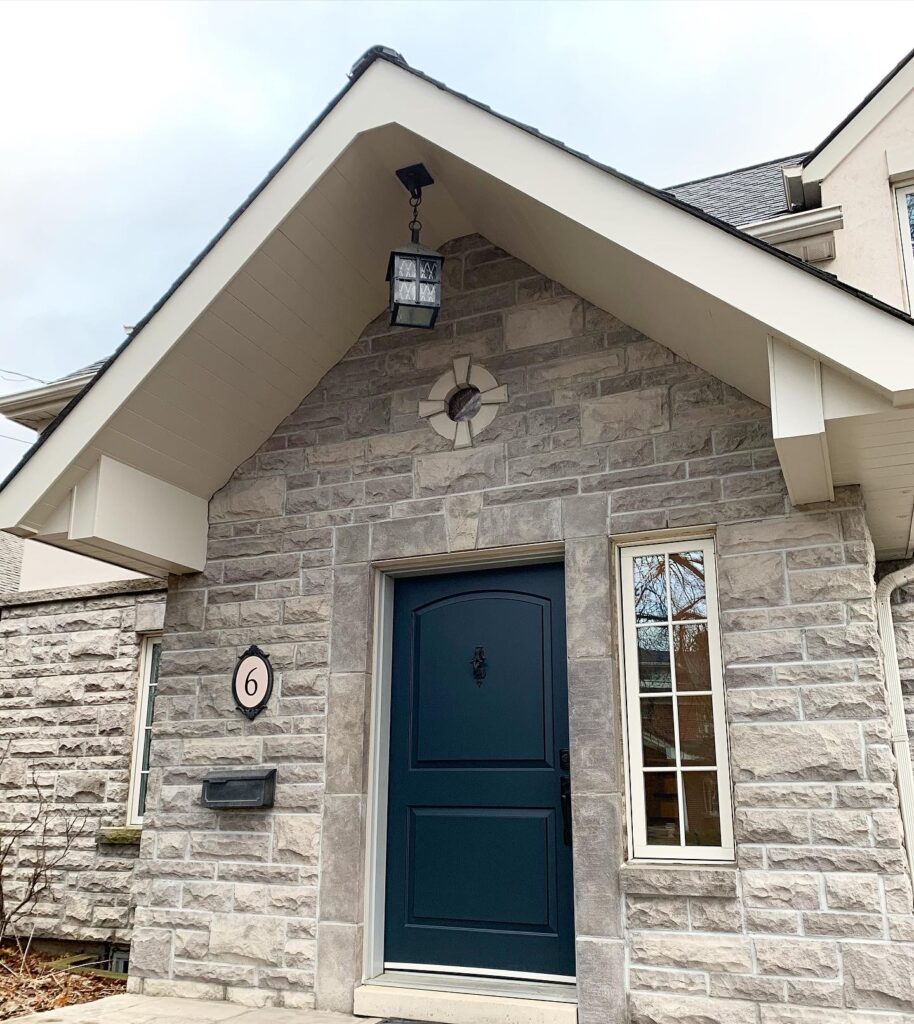 This Farrow & Ball No. 31 Railings coloured front door adds an appeal to this otherwise neutral coloured home. Adding a black accent offers a formal yet bold look that will never go out of style. The splash of black on this front door allows this ready-to-sell house to standout on the market while still appealing to any and all home buyers.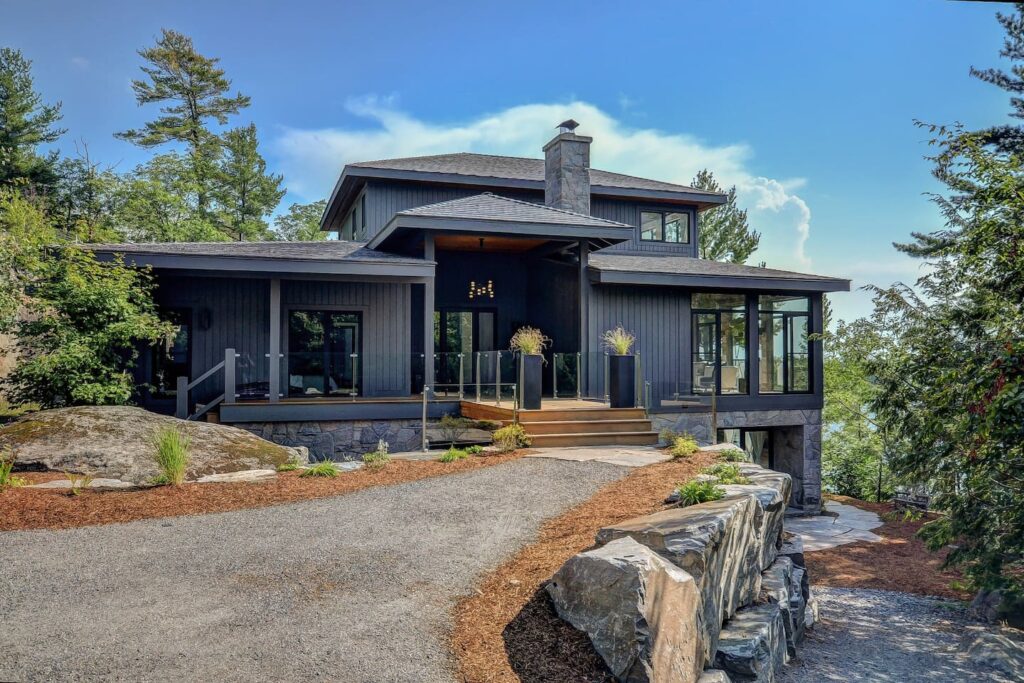 Adding black to the exterior of your home doesn't need to be through an small accent. Black as a principal colour on exteriors is becoming the norm. Whether it is paired with stone or brick, a black exterior offers a minimalist modern style one can rarely execute with any other colour. It allows your house to stand apart while still looking like it belongs.
Not sure if you can paint your vinyl siding? Read our Ask the Painter blog and get all your answers! http://theinerpainting.com/ask-painter-can-paint-vinyl-siding/
Need more colour advice? Ask our experts or check out https://happydiyhome.com/exterior-house-colors/ for some guidance!